Corners are often the most neglected nooks of your bedroom. But every corner has the potential to transform into a highly functional and aesthetical space. A corner bed is one of the best bedroom design ideas to utilize your corners.
Corner beds work best in tight spaces that pose design limitations. From increasing the functionality of your room to balancing the overall look, corner bed designs have more than one benefit. What's more, there are several ways in which you style this look to make your bedroom a chic and comfortable haven.
Below are some creative corner bed design ideas from which you can take inspiration.
Corner Bed Designs to Make the Most of Your Bedroom Space
Small Bedroom Corner Bed Design
Designing small bedrooms can be tricky. Not only is it challenging to fit everything in a small space, but it can also easily look cluttered. A smart solution to the problem is opting for a corner bed. Tucked against the wall at one end of the room, corner beds leave ample room for other furniture like a study table or working unit.
You can create separate zones in your room for work and rest. This corner bed idea is especially useful for people who like to work from home. And when it's time to rest your muscles after a long day's work, you can sneak into a snug and cosy corner-bed area you've created.
Kid's Room Corner Bed Design
Kids need more space in their bedrooms to play and store their toys. A corner bed makes this possible. If you have a single child, go for a space-saving corner low bed. Look for the one with base storage to hold all toys, books, and other items. Add a matching cabinet or a study to give the room a complete look.
Corner Bed With Storage
Whether or not your bedroom is spacious, maximizing your bed's utility is never a bad idea. A corner bed design with storage will help you do that. Beds nowadays come with box storage, hydraulic storage, or drawers on their sides.
Some modern corner bed designs even have hidden storage that lends a seamless look to your bed. They add immense utility to furniture while also keeping the aesthetic intact. Further, if you're a nighttime reader, you'd love corner bed designs with shelves to hold your books, spectacles, mobile phones, medicine, water bottle, or any other item you need to keep handy.
Corner Bunk Bed Design
A corner bunk bed is an excellent option if you have more than one children who share a bedroom. Bunk beds are colourful and playful, ideal for kids' rooms. They can be built up to three storeys with a ladder to move from one level to another.
Not only do they space two-bed spaces, but they also add vibrancy to the room. You can match the bed's colour to the room's theme to create a fun space that children will love.
Corner Bed With Canopy
Add a canopy to your bedroom design to create an impressive bedroom ambience. Canopy beds look phenomenal and can easily take your suite to another level.
They take you back to the bygone era of beautiful castles with elaborate chambers. The drapes hanging from the four posters provide a cosy and romantic atmosphere where you can relax and unwind with your better half.
Corner Double Bed Design with Headboards
While a corner double bed design idea can save a lot of space, sometimes just shoving a bed into the corner can look awkward. A great solution to that is customized headboards. Upholstered headboards will keep the bed nicely tucked into the corner.
So not only will the bed be more comfortable, but it would also look like it belongs there. Also, if you add headboards on two sides, the bed can double up as a big lounge area where you can read books or watch movies and have a fun and relaxing time.
Two Single Beds
Another excellent way to utilize the corners of a shared bedroom is to place two single beds in an 'L' shape. A storage or display item can be added between the beds to complete the look. Such corner bedroom ideas not only save enough centre space but also provide privacy to the inhabitants. You can apply the same design to bunk beds too.
Corner-Angled Beds
It's no secret that the way of arranging furniture impact the look and feel of any room. So the best way to refresh the look of your bedroom if move around the furniture. Since the bed is the most significant piece of furniture in the bedroom, setting it up at an unexpected angle can completely transform the vibe and energy of the space.
A corner-angled bed may not be suitable for all home designs, but most benefit from this style. Small and unsymmetrical rooms can get great results from this eccentric modern corner bed design. It helps with the room's overall flow while offering more wall space for additional furniture and storage.
How well balanced, not to mention adorable, the setting looks in the picture above!
Loft Living for Tiny Spaces
If you have limited floor space, why not add a loft for the sleeping area that you can access with a ladder? While this may not work for everyone, it's incredible for those who don't mind climbing to bed.
This arrangement can save a tremendous amount of floor space and enable you to accommodate all essential furniture to live and work in the same place. You'll have to admit that it's an attractive bedroom interior design for those looking for a home with character and style.
Twin Beds on Two Corners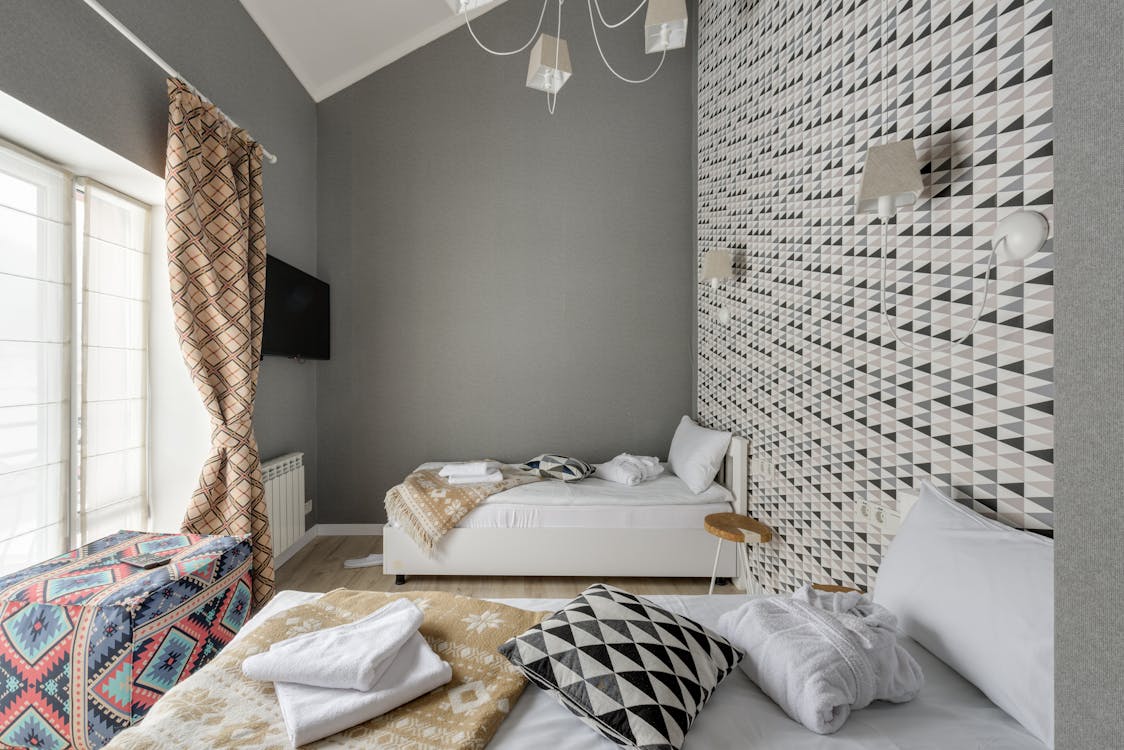 Here are two small-sized beds pushed into two corners of the room-an ideal setting for a guest bedroom. This layout maximizes the space between the beds so you can easily manoeuvre through the room without disturbing the other person.
Even smaller rooms can accommodate this setting very well. Guest houses that offer rooms for sharing often use this layout to make the best of the limited space. If done right, this corner bedroom idea can make the room look chic and luxurious.
Tips on Placing a Corner Bed
Moving away from the traditional layout of a centre bed and sliding your bed into a corner can make a bold statement. However, the arrangement is not always easy to pull off. Here are some helpful tips to help you ace the corner bed bedroom design.
Keep it Functional
Making the bed every morning is the most challenging part of having a corner bed. To make your bed easily, you will need to leave some space on each side of the bed. So keep in mind to keep at least two feet gap between the bed and the wall on each side. It will allow you to move around the bed comfortably.
Also, don't forget to leave a 36 to 40 inches gap between the bed and the dresser or cabinets. You'll require space for opening and closing the dresser's drawers or the cabinet's doors.
Ground the Bed
While a corner bed might be the most natural arrangement for a small bedroom, the placement can look quite awkward in large sized bedroom. So to make this bedroom design work, you will need to ground the bed in the corner to make it look like it belongs there.
One way of doing so is by making the bed area the room's focal point. You can use a curtain drape to highlight the bed area. Hang them from the ceiling behind the bed to make a canopy-like structure. The charming design will immediately draw everyone's eye to it,
Another idea is to place a folding screen behind the bed. Large items such as drapes or screens have a grounding effect that eliminates the feeling of the bed floating in the room.
Better With Accessories
Accessorizing a bed in the centre is easy as there is enough space on either side. However, the same is not the case with corner beds. With limited space, you won't be able to place nightstands or other large accessories at the bedside. But that does not exhaust all décor options for corner beds. You can still fit small, slender stands or lamps on the side without overpowering the bed. They will help create a focal point and ground.
Another way to accessorize a corner bed is by installing low-wall shelves on either side that you can reach from the bed. The shelves can hold your lamps, pictures, or books while making the corner look chic and elegant.
If you wish to give your room an ethnic touch, you can ditch the stand and opt for a small chest instead. The chest provides far more utility than a stand while also adding charm to your corner.
Add Life to the Dead Space
When you angle a double bed in a corner, it usually boxes the space behind it. However, the area is not entirely unusable. There are a lot of creative ways in which you can utilize it.
For example, a floor lamp or an upward-facing wall scone can immediately brighten the corner. Another idea is to place a large plant to add life to the dead space and make it fresh and green. You can add a corner shelf or vertical storage to turn the area into a utility hub.
Wrapping Up
So these were some unique corner bed ideas for a bold and beautiful bedroom. Try them out and give your bedroom a refreshing new look. Remember that keeping your bedroom comfortable is as important as making it aesthetically pleasing. So choose the design accordingly.
If you've loved the above bedroom interior design ideas, there are more of these at homelane.com. HomeLane provides homeowners with customized and efficient home designs that make their abode stand out. Our 1400+ interior design experts will help you create stunning homes you've always dreamed of. If you're interested in exploring great interior designs that suit your lifestyle, you can book an online design session with HomeLane.
FAQ's
1. What do you put behind a corner bed?
Often overlooked as a dead space, the corner behind the bed opens up many new design possibilities. By using a bit of creativity, you can convert it into the heart of the room. While we've already discussed a few options above, here are a few other design ideas to light up the space behind the corner bed.
Mirrors and Sculptures
It is often discouraged to place mirrors in front of a bed as it could lead to nightmares. However, the space above the corner bed's headboard could be a perfect place for it.
Mirrors are great at reflecting light and energizing the environment. You can hang them high enough to reflect an object of art or sculptures placed opposite it instead of the bed. This can create a beautiful focal point that draws in the viewers.
Tapestry Headboard
A tapestry can form a lovely backdrop and give your bedroom a relaxing and calming feel. Apart from adding colour, tapestries can also hide the corner shelf, so you maximize your storage space.
Houseplant
The plant should be at least twice the bed size to create an impression. Alternatively, you could have a plant stand and add shorter potted plants such as fern or money plants. But ensure that the frames are strong enough to avoid the risk of objects falling from them.
2. How to make a corner bed?
If you have one or more sides of your bed against the wall, better use a light spring mattress to make the job much easier. Pull the mattress (not the bed) away from the wall and attach the wall side sheets first. Once you've fit the sheet over all four corners of the mattress, push it back to position.